Tenderleaf Toys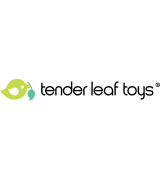 Tender Leaf Toys have been created by craftsmen and designers using their experience, knowledge and creativity to bring you a beautiful and eco friendly wooden toy range that has brought the energy, emotion and excitement of playing with wooden toys back in to the family.
All Tender Leaf Toys' beautiful UK designed products have been made with the development of children's skills and the replenishment of rubberwood forests at their heart. All the cutting, drying and painting of the wood is undertaken at the same factory location in Indonesia. With over 25 years of hands-on experience, the company has become a world leader in wooden toy manufacturing. The factory operations have a combined manufacturing capacity of 150,000 Sq. m and provides employment to approximately 1,500 people from the surrounding areas.
Tender Leaf toys only work with FSC certified plywood and reclaimed rubber wood, a by-product of the latex industry and for every reclaimed tree it uses it plants a new one .The company has been awarded the ICTI Ethical Toy Program seal of approval and strive to maintain ethically high standards throughout the organisation. In addition to meeting European, American, Australian and New Zealand standard safety of toys according to EN71, ASTM and AS/NZS ISO, they look to a time where all businesses regardless of size take social and environmental responsibility in all parts of the supply chain in order to protect our children's future.
There are no products in this section