Shreds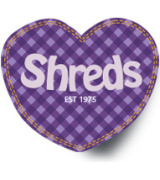 Shreds range of products is based mainly on classic children's book characters.
Jane Shirley founded Shreds in 1975. From the kitchen table she designed and made the original children's painting aprons and a range of home textiles, including tea towels and shopping bags. With the help of several other young mums, also working at their kitchen tables, the business began to grow.
These days Shreds is run from an old station yard in the Lincolnshire countryside by the next generation of Shirleys - Nick and Jo. They are backed up by a fantastic team, who take pride in their knowledge and expertise in servicing the Gift market. As a company our philosophy is simple: to offer exceptional product, sensibly priced and with first class customer service.